Saban Family Announces The Saban Center – A Hub for Interactive Learning in Tuscaloosa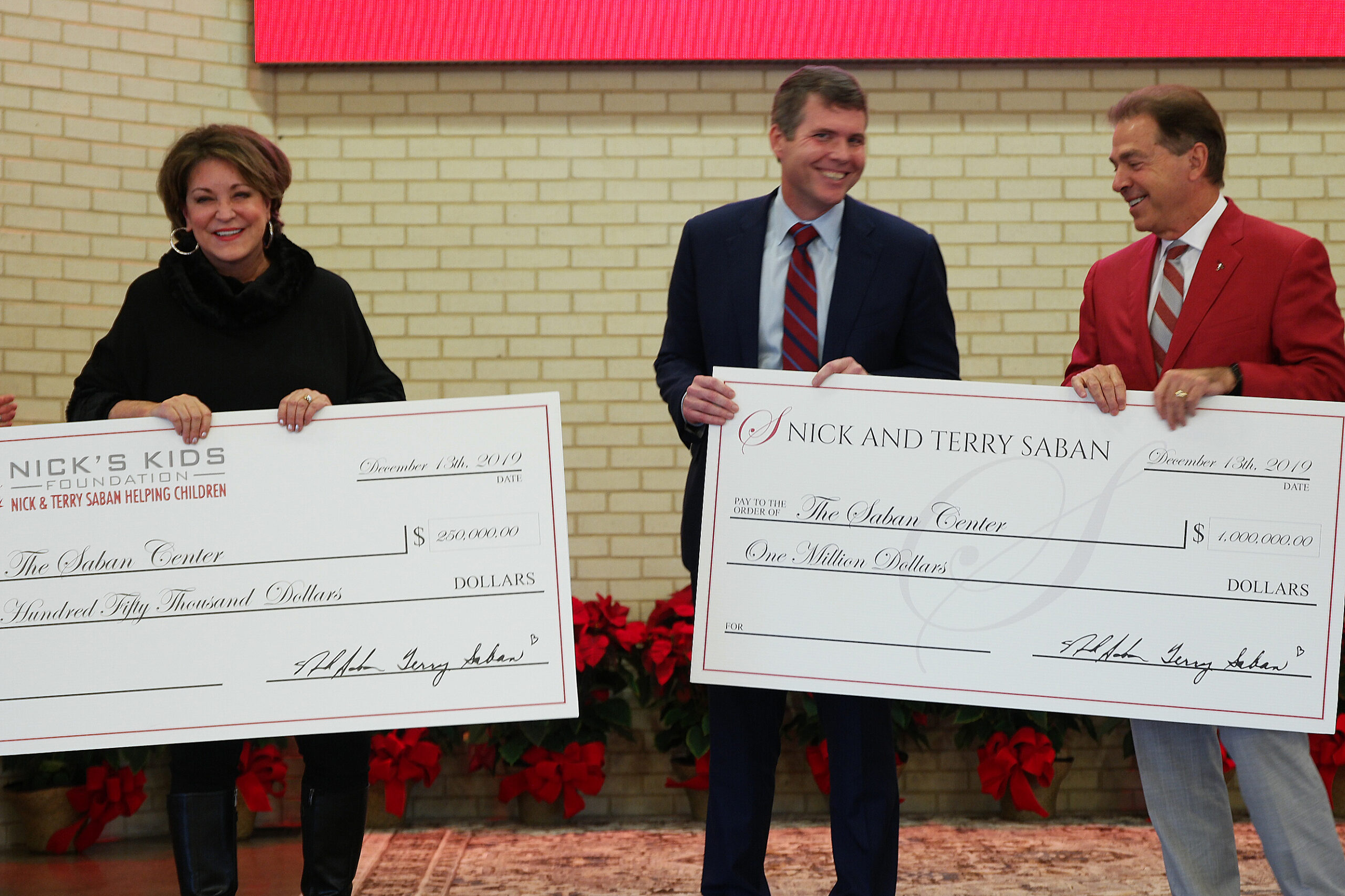 On Friday, Dec. 13, 2019 Terry and Nick Saban announced that the Saban family will make a $1 million contribution to a City of Tuscaloosa project to bring together the Children's Hands-On Museum (CHOM), and the Tuscaloosa Children's Theatre in a unique public-private partnership under the roof of what is currently the Tuscaloosa News building. Additionally, the Nick's Kids Foundation will make a $250,000 contribution to this project, which will be known as The Saban Center.
"Terry and I could not be happier to partner with Mayor Maddox and the city of Tuscaloosa in the building and development of the multifaceted learning center which will present and encourage cutting edge knowledge and research in STEM as well as the arts," said Nick Saban. "Children and adults alike will benefit from this incredible facility with many different ways of displaying knowledge including hands on experiences. This project fits our strong commitment to education as an end in itself as well as a door to open opportunities for all."
As part of the City's Elevate Tuscaloosa Initiative, The Saban Center will bring STEM programs together with theater, literature, outdoor recreation, and interactive learning for children and families in Tuscaloosa and surrounding area.
"We are proud that our name will be a part of this project and a part of our legacy in Alabama. The Saban Center will be the crowning jewel in downtown Tuscaloosa complimenting the Riverwalk, the Farmer's market, and the Tuscaloosa Amphitheater, and will elevate our city to be a special place in the nation for education, entertainment and lifestyle," Terry Saban said.

"From the moment Elevate Tuscaloosa was proposed, the City Council believed that the generosity and imagination of this community would create unforeseen opportunities. The Saban Center reflects this shared belief. By combining the visions of the partnering organizations with the Saban Family's heart for service beyond self, Tuscaloosa will be the home of an elite experiential learning center," Mayor Walt Maddox explained. "Tuscaloosa is in competition with the world. Education has always been a key component of Elevate Tuscaloosa, and when the Saban Center opens, our community will have a state of the art, interactive center educating the next generation and preparing them to succeed beyond measure. "

The Tuscaloosa City Council voted to purchase the Tuscaloosa News Building on Oct. 1, 2019 for $7.925 million. The Elevate Advisory Committee unanimously approved the recommendation to begin the master planning process for the project on Oct. 24, 2019. Each phase of the plan for The Saban Center will be reviewed by the Elevate Advisory Council and by the Tuscaloosa City Council.